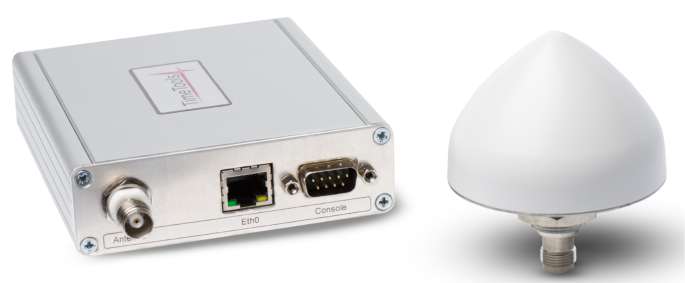 Unit Price (Ex-Works): GBP 610.00 \ EUR 712.00 \ USD 844.00
Availability: In-Stock
Price Includes: T100 GPS Time Server, GPS Timing Antenna, Antenna Mount, 10m Cable, Universal Power Supply Adapter.
Made in UK.
---
TimeTools T100 GPS NTP time server is an extremely cost-effective, yet highly accurate and powerful, Stratum-1 time reference in a compact enclosure. It provides accurate timing to computer networks and can synchronize any NTP or SNTP compatible system.
Highlights
NTPv4 Stratum-1 GPS Network Time Server.
GPS accurate to 15 nanoseconds (GPS Locked).
NTP accurate to 3 microseconds (GPS Locked).
Synchronize in excess of 2 million clients at default NTP polling frequency.
10/100 Mbit auto-sensing, auto-MDIX Ethernet port.
IPv4 and IPv6 Internet Protocols.
Simple Network Management Protocol Monitoring (SNMP v3).
Extremely cost-effective.
Supplied with permanent-mount high-gain GPS antenna.
Universal AC mains power adapter.
Made in UK, with 12-month warranty and free lifetime support.
Applications
Network timing, measurement and synchronization.
Synchronize Microsoft Windows, Linux, servers, workstations and network infrastructure.
Automation Systems, SCADA, Network Monitoring and Control Systems.
CCTV, DVR and Video Management Systems (VMS).
Access Control Systems (ACS).
Master clock for NTP synchronized clock systems.
Accurately synchronize time critical processes to a traceable source of time inside your firewall.
---
Powerful and Reliable
The T100 utilizes a powerful Linux based industrial processor module, which also has very low power consumption. The device runs very cool, no cooling fans are required, providing exceptional reliability.
NTP and SNTP Protocols
The latest NTPv4 protocol is used by the T100, which is backwards compatible with previous versions of NTP. It can synchronize any NTP or SNTP compatible system, including Windows, Linux, CCTV, DVR and network devices such as switches and routers.
Unique in such a low cost device, the T100 has the processing power to serve in excess of 2 million clients at the default NTP polling frequency.
Additional Network Protocols
Future-proofing is achieved by the implementation of both IPv4 and IPv6 protocols. The device also supports: HTTPS, HTTP, SSH, SCP, SNMP v1/v2c/v3, SFTP, FTP, DHCP, DHCPv6.
High Accuracy Timing
When locked to GPS signals, the T100 GPS receiver can provide timing pulses to within 15 nanoseconds. The NTP daemon utilizes timing information from the receiver to synchronize within 3 microseconds of UTC.
Flexible Installation Options
The T100 features a cutting-edge GPS timing receiver that can continue to provide timing information in very challenging environments. The receiver can operate down to a single satellite in view, making window antenna location possible. The device also operates in a high-sensitivity mode, so that in many locations, indoor operation is possible. These features can provide installation cost savings compared to traditional roof-mounted antenna systems.
The T-3040 GPS antenna supplied with the T100 is entirely weather-proof and can be roof-mounted, to provide a reliable, consistent signal lock.
T-3040 High-Gain GPS Antenna
Supplied with the T100 is the high-gain T-3040 GPS antenna. It covers the GPS L1 frequency band and provides excellent circular polarized signal reception, out-of-band signal rejection and multipath rejection. The antenna provides great signal-to-noise ratio and consistent response in all operating temperatures. Additionally, with 40dB gain, long cable runs can be easily accommodated.
The antenna is housed in a through-hole mount, weather-proof enclosure for permanent installation. It can be used for indoor or outdoor applications.
Also supplied with the T100 is the MT4-GPS antenna mount. The mount provides secure antenna fixing to a flat surface, wall or mast.
---
Customer References and Testimonials
A large number of prestigious organisations from around the world trust TimeTools for their synchronization requirements. Here is a small selection: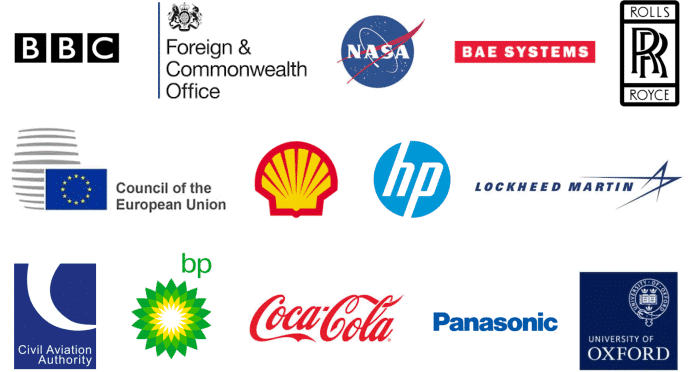 "If anyone asks me for advice on a NTP server, my answer will be: go to TimeTools and place your order. Thank You very much."
Strüby Konzept AG, Sweden.
---
TimeTools T100 GPS NTP Server Warranty Terms & Conditions
TimeTools Limited warrants the T100 GPS NTP Server appliance to be free from defects in material and workmanship during a 12-month period.
TimeTools Limited warrants GPS/GNSS Antennas, GPS Amplifiers, Cables and any integral batteries to be free from defects in material and workmanship during a twelve-month period.
The Warranty begins on the date the unit is shipped from TimeTools Limited.
Please see T100 Hardware Installation Guide for full warranty terms and conditions.
Help & Support
TimeTools Limited provides free email and telephone support for the lifetime of the T300 product.
For help and support, please email info@TimeToolsLtd.com.
---
Product Codes
T100-00    Compact GPS NTP Time Server appliance.
Scope of Supply – What is Included
T100              GPS Time Server Appliance.
T-3040          Pole Mounting Antenna .
MT4-GPS     Antenna Mount.
TCX-010       10m (30 ft) LMR195 Equivalent Cable.
GE12I07-P1J 7.5V DC Universal Power Supply
RS232 Serial Console Cable.
Quick Start Guide.
CD containing user-guide, installation guide and white-papers.
Optional Accessories
TCX-030      30m LMR195 Equivalent Cable.
TCX-050      50m LMR195 Equivalent Cable.
TCX-100      100m LMR400 Equivalent Cable.
Custom cable lengths available on request.
SPP-GPS     Multi-strike maintenance-free surge suppressor
T-AD200-8 GPS Amplifier – 20db
---
Download

 T100 Datasheet


 Quick Start


 T1200 T100 Hardware Guide


 T1202 Antenna Installation Guide


 T1300 T-Series User Guide