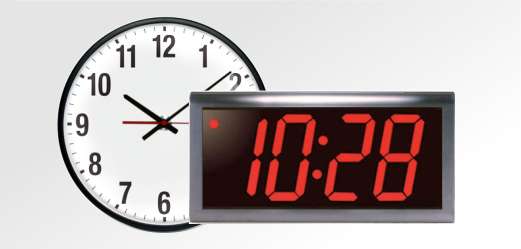 Network Clocks
TimeTools IP network clocks are time displays that utilise NTP over Ethernet to display a continuously accurate time.
The clocks are available with 100mm (4-inch) high numerals with four or six digits displaying hours and minutes or hours, minutes and seconds. A 300mm (12-inch) analog clock is also available. The clocks obtain time from a local or internet based NTP\SNTP network time server, to provide a display of accurate time.
The network clocks have configurable time zone and daylight saving settings. They can display UTC or local time anywhere in the world. Additionally, time updates for local daylight saving time changes are completely automatic. The network clock system is completely maintenance free, requiring no operator intervention.
Advantages of Power over Ethernet (PoE)
PoE is an industry standard for providing both data and power over a single CAT5, or better, Ethernet network cable. The clocks only require the installation of a single cable for operation. No external power supply is required and electrical outlets need to be installed close to the clocks. Big installation cost savings can be achieved by reduced cabling costs.
Additionally, by utilizing industry standard IEEE 802.3af PoE, clocks can also be installed on existing networks. All that may be required is a low cost PoE power injector.
Network Clock Configuration
Clock configuration can be carried out network wide, using DHCP configuration strings or individually. Individual configuration is achieved using a password protected telnet session from a PC on the same network segment.
A number of configuration options are available, including: time zone offset, daylight saving time, time display format and NTP\SNTP network time server addresses.
Advantages of Network Clocks
Display of legally traceable source of accurate time.
Organization-wide synchronized time display.
Office meetings or classes start on time.
Clocks can synchronize to a local or internet based time server.
A dedicated local master clock time server is not required.
Clocks can be configured system-wide or individually from a single location.
Daylight saving changes are performed automatically.
Network clock systems are completely maintenance free and require no operator intervention.
Applications
Network clocks are ideal for providing an organization wide display of legally traceable accurate time. They lend themselves to installation in trading room, media companies, schools, hospitals, factories and manufacturing facilities.
IP Network Clock Models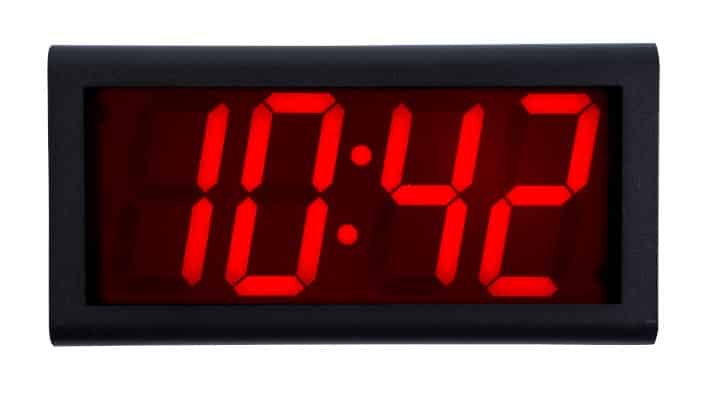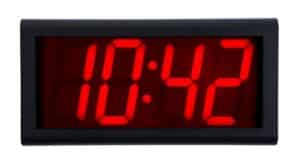 4-Digit Network Clock with PoE
6-Digit Network Clock with PoE
Related Articles
A Guide To NTP Clocks and Networked Time Displays