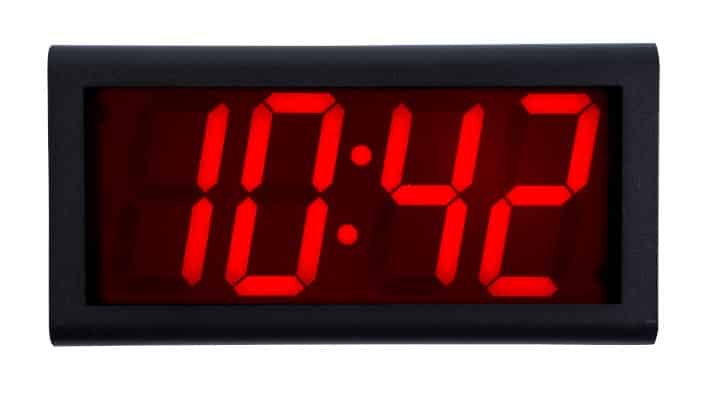 LED digital wall clocks that synchronize using SNTP over Ethernet to display consistent time. The clocks can be relied upon to provide accurate time in any location. Ideal for manufacturing facilities, offices and hospitals – anywhere a reliable display of time is required.
With configurable time zone and daylight saving settings, automatic adjustment is achieved without operator intervention.
Power over Ethernet technology allows the clocks to get time, data and power directly from your network using a single CAT5 cable. Industry standard IEEE 802.3af PoE couples energy-efficient reliability with ease of installation and maintenance.
Additionally, unlike wireless clocks, you will never need to search for a reliable radio signal.
Colour and Enclosure Options
The LED clocks can be provided with red or green seven-segment displays. They are also available in a range of enclosure colours and materials.
Also available with flush surface-mounting and single or double sided mounting options.
Key Features
Accurate time using SNTP (Simple Network Time Protocol).
Synchronizes to any NTP\SNTP server or Windows Server.
Adjusts automatically for Daylight Saving Time.
Powered using industry standard IEEE 802.3af Power over Ethernet (PoE).
Time, data and power over a single CAT5 cable.
Configurable 12 or 24 hour display.
Standard RJ45 10/100 BaseT Ethernet with PoE.
DHCP or static IP network addressing.
CE, RoHS, ETL, UL/CSA 6950-1 approvals.
Industry leading 3-year warranty.
Benefits
Reliably accurate time display throughout an organization.
Accurate time-stamping of events.
Cost savings due to scheduled classes and meetings starting on time.
Extremely easy to install, configure and maintain.
Ideal for installation in schools, hospitals, offices, anywhere reliable time is required.
Automatic Time Adjustment
The digital wall clock utilizes the SNTP protocol to maintain accurate time. They can synchronize to any local or internet NTP or SNTP time server. A Windows server can also be configured to provide NTP. TimeTools has a range of GPS referenced NTP servers that can be used as master clocks.
IEEE 802.3af Power-over-Ethernet
Industry standard IEEE 802.3af Power-over-Ethernet (PoE) allows time, data and power to be provided to the clocks over a single CAT5 cable. This simplifies installation and means that a mains outlet does not need to be provided close to the location of the clock.
Clock Mounting Options
Surface mounting: The surface-mounting clocks have two key hole cut-outs at the rear for wall mounting.
Single or double sided mounting: A mounting kit can be provided which allows clocks to be mounted either singularly or back-to-back at right-angles off the wall (cantilever) or ceiling (pendant).
Flush mounting: Clocks are available that can be recessed into a wall to provide a flush finish.
---
Customer References and Testimonials
A large number of prestigious organisations from around the world trust TimeTools for their synchronization requirements. Here is a small selection: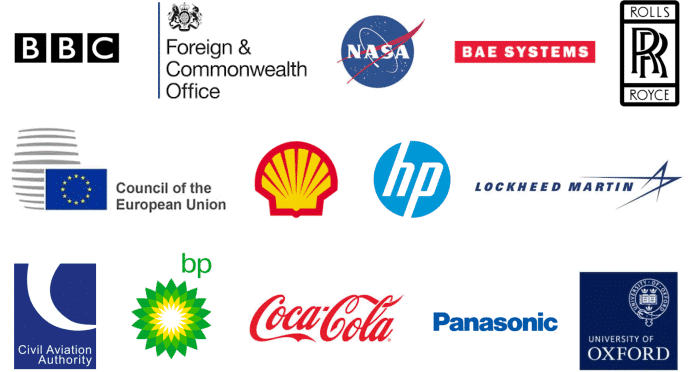 "The wall clocks were easy to set up and get going and work a treat. Excellent product."
International Airport – UAE
---
Specification
Display Format: 4-digit, 7-segment LED.
Display Colours: Red or green.
Digit Height: 10cm
Accuracy: ±200 milliseconds.
Maximum Viewing Distance: 45m.
Standard Enclosure: Black plastic.
Optional Enclosures: Putty or off-white plastic, black aluminium, brushed stainless steel.
Length: 30.5cm.
Height: 15.2cm.
Depth: 5.8cm.
Weight (Plastic Enclosure): 0.7kg.
Weight (Aluminum Enclosure): 1.0kg.
Weight (Stainless Steel Enclosure): 1.85kg.
Operating Temperature: 0 – 40º C.
Maximum Operating Humidity: 95%, non-condensing.
Power Consumption: 8 W.
Power: IEEE 802.3af PoE.
Mounting Options: Surface, recessed, single or double-sided pendant, cantilever.
IP Addressing: DHCP or Static.
Ethernet Connection: 10/100 BaseT RJ45.
Network Protocols: SNTP, Telnet.
Time-zones: Configurable time-zone and daylight saving (DST).
Standard Models
T-ONT4BK-P – Black plastic, red LED, surface-mounting.
T-ONT4BK – Black aluminium, red LED, surface-mounting.
T-ONT4SS – Stainless steel, red LED, surface-mounting.
T- ONT4BKFM – Black plastic, red LED, recessed-mounting.
Also available: Green LED, putty and off-white plastic enclosures.
---
Related Products
6-digit NTP Network Clock with PoE