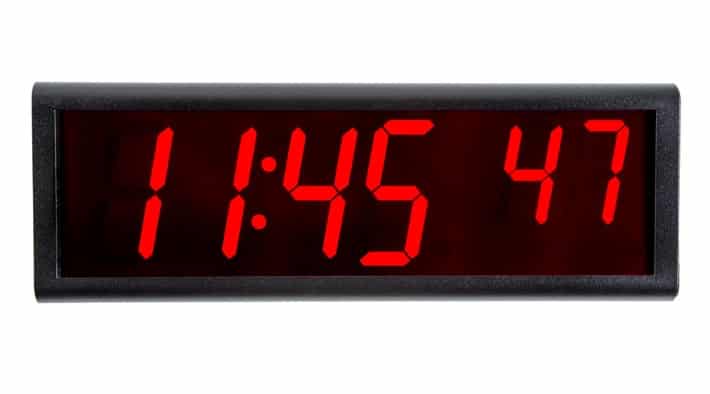 LED digital wall clocks that synchronize over an Ethernet network to an accurate time reference. By utilizing the industry standard SNTP network protocol, the clocks can be relied upon to provide consistent time. Ideal for any organization that needs reliable time, including factories, hospitals, trading rooms and schools.
Configurable time zone settings allow the clocks to display local time anywhere in the world. Additionally, automatic adjustment for daylight saving time provides completely maintenance free operation. No operator intervention is required for daylight saving time changes.
With large, bright 100mm high digits, the clocks are easily visible to almost 50m. Fewer clocks are therefore required in large areas, reducing costs.
Ease of installation and reliability is aided by the inclusion on industry standard Power-over-Ethernet. Timing information, data and power can be provided to the clock from a single CAT5 network cable. Additionally, because the clocks are hard-wired, you will never need to search for a radio signal that is required by wireless clocks.
Clock Display Colour and Enclosure Options
The NTP network clocks can be provided with either red or green displays. Additionally, they are available in a range of enclosure colours and materials.
Key Features
Clear, easily readable display visible to almost 50m.
Time synchronization using industry standard SNTP protocol.
Gets time from any local or internet NTP server, including Windows servers.
Can display local time in any location.
Adjusts automatically for Daylight Saving Time without operator intervention.
IEEE 802.3af PoE – timing information, data and power over a single network cable.
Configurable 12 or 24 hour display format.
10/100 BaseT Ethernet with PoE via standard RJ45 connector.
DHCP or static IP addressing.
CE, RoHS, ETL, UL/CSA 6950-1 approvals.
Industry leading 3-year warranty.
Benefits
Log the time of events accurately.
Consistent time displayed throughout your organization.
Maintenance free operation – no intervention required for daylight saving time adjustment.
Power-over-Ethernet lowers installation costs.
Reliable hard-wired connectivity.
NTP Synchronization Options
The network clocks synchronize using the industry standard SNTP protocol. The clocks can obtain time from a number of sources. Internet NTP servers, local NTP servers, including any of TimeTools T-Series time servers can be used. Alternatively, a Windows server can be configured to provide SNTP time to the clocks. This can be useful in applications where a time display is required that is consistent with the time of computer systems. Ideal for access control and time & attendance systems.
Cost-Saving Installation
Power-over-Ethernet (PoE) allows flexible and cost-saving installation. Timing information, data and power can be provided to the clock over a single CAT5 network cable. This eliminates the need for a power outlet to be located near the clock – significantly reducing installation costs.
Network Clock Mounting Options
Surface mounting: The standard clock has two key hole cut-outs at the rear of the enclosure for mounting on a flat surface, such as a wall.
Flush mounting: Clocks can be provided in a flush-mounting enclosure, which allows fitting into a recess. This provides a very clean, professional finish.
Single or double sided mounting: A clock mounting kit is available that allows single or double-sided installation of clocks at right-angles to the wall or ceiling.
---
Customer Testimonials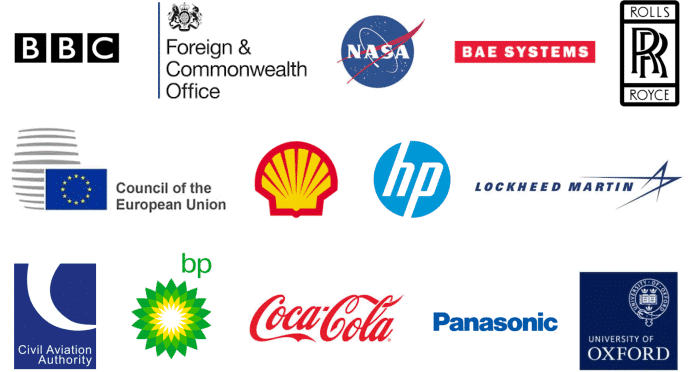 "I have just added a number of NTP wall clocks to our network in our operations office. Excellent product."
Aviation Metrology, UAE.
---
Specification
Display: Hours, minutes, seconds HH:MM:SS
Display Format: 6-digit, 7-segment LED.
Display Colours: Red or green.
Digit Height: 10cm
Accuracy: ±200 milliseconds.
Maximum Viewing Distance: 45m.
Standard Enclosure: Black aluminium.
Optional Enclosures: Putty or off-white aluminium, brushed stainless steel.
Length: 44.5cm.
Height: 15.2cm.
Depth: 5.8cm.
Weight (Aluminium Enclosure): 1.47kg.
Weight (Stainless Steel Enclosure): 2.5kg.
Operating Temperature: 0 – 40º C.
Maximum Operating Humidity: 95%, non-condensing.
Power Consumption: 9.5 W.
Power: IEEE 802.3af PoE.
Mounting Options: Surface, recessed, single or double-sided pendant, cantilever.
IP Addressing: DHCP or Static.
Ethernet Connection: 10/100 BaseT RJ45.
Network Protocols: SNTP, Telnet.
Time-zones: Configurable time-zone and daylight saving (DST).
Standard Models
T-ONT6BK – Black aluminium, red LED, surface-mounting.
T-ONT6SS – Stainless steel, red LED, surface-mounting.
T- ONT6FM – Black aluminium, red LED, recessed-mounting.
Also available: Green LED. Putty and off-white aluminium enclosures .
T-ONT6KIT – Single or double-sided mounting kit for mounting clocks at right-angles off the wall or ceiling.
---
Related Products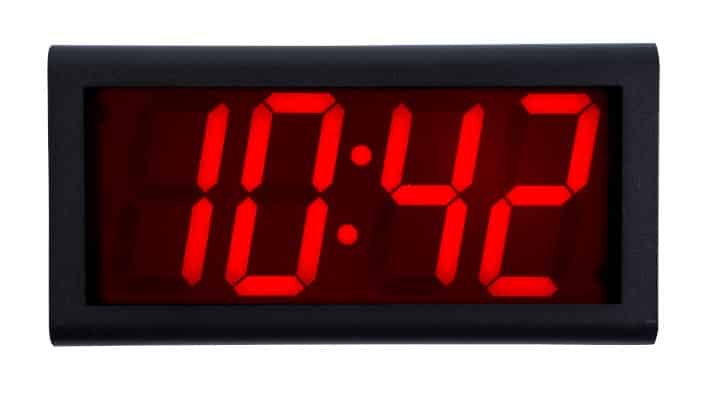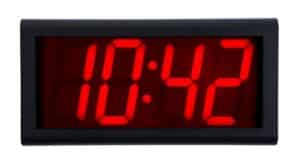 4-Digit Network Clock with PoE