TimeTools are pleased to include the following selection of organisations in our list of customers: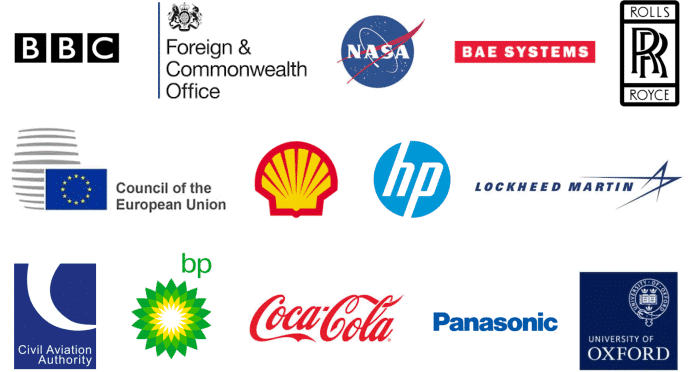 ---
Communications
Nokia Siemens Networks
Motorola
Siemens
Marconi
O2
T-Systems
Cable & Wireless
HM Government Communications Centre
Ericsson AB
Telkom Kenya Limited
Telegra d.o.o.
Teledesic Broadband Networks, SA de CV
Telenor Norway, Business Division
TeleWare Plc
Eircom UK Ltd
Babcock Communications Ltd (T&S)
Santa Monica Networks AS
Inmarsat Global Limited
Atlas Telecommunications Est.
British Telecom BT
beCogent
VT Communications Limited
Manchester Metronet
HARRIS Systems Ltd
Tunstall Telecom Limited
Sematron UK Ltd
Keycom Plc
NCI Systems Limited
NSC Global
Save Diffusion
---
Pharmaceutical \ Medical
Wellcome Trust
Pfizer
Wartsila North America Inc.
Enertopia
Texas Biomedical Research Institute
Novartis Grimsby Ltd
Astellas Ireland Co Ltd
Enertopia
Norbrook Laboratories Ltd
Amicus ITS
Renard Systems – Medico TT
---
Media
BBC
RTE
France 24
British Sky Broadcasting Group (Sky)
News International Newspapers Limited
S4C
Channel Television Ltd
Westside FM
Television Versioning Translation Ltd
Sunshine Radio
Quinte Broadcasting Co. Ltd
Fortune TV
Endemol Nederland Mediagroep BV
Inflight Productions Ltd
Independent Television News Ltd (ITN)
Deluxe
Arqiva Limited
---
Finance
Barclaycard
American Express
Bank of England
Royal Bank of Scotland
Allianz Insurance
Portman Building Society
Heritage Bank & Trust
Link Cash-Machines
HFS Loans Group
Royal Mint
Principality Building Society
APS Bank LTD
ASPIS Bank
Bank of Scotland
Bank of Tanzania
Allianz Management Services
Commerzbank AG
Commonwealth Bank Ltd
Hinduja Bank (Switzerland) Ltd
Metallinvestbank
SG Hambrose Bank
Aspect Capital Ltd
Derbyshire Building Society
Tibra Trading Europe Limited
S.W.I.F.T. SCRL
National Treasury Management Agency
The Dominion of Canada General Insurance
Hargreaves Lansdown
Quinn Direct Insurance Ltd
Premier America Credit Union
Equanet Limited
Kensington Finance
Altium Capital Ltd
Gloucester Research Ltd
ADVFN PLC
General Atlantic
Speechly Bircham LLP
---
Manufacturing
Siemens SA
Honeywell Controls Systems Ltd
Singapore Technologies Electronics Ltd
ABB Ltd
Ikea
Jaguar Landrover
Schrader Electronics Ltd
Schlumberger Oilfield UK PLC
Amey Mechanical & Electrical Svcs Ltd
Balfour Beatty plc
JCB
JVC Limited
Coca-Cola
Panasonic
Avon Cosmetics Ltd
Bell Microsystems Ltd
Chubb Ltd.
Delphi Diesel Systems Ltd
Denovo UK Ltd
Tata Steel UK Limited
Bombardier Transportation
Axiom Manufacturing Services Ltd
Big Yellow Self Storage
Brand Rex Limited
CEPHA CONTROLS LTD
Hagemeyer (UK) Ltd
Flamco UK Ltd
ICS Triplex Technology Ltd
Ideal Boilers Ltd
Nintendo of Europe GmbH
Kohler Mira Ltd
SAAB AB
Schneider Electric Limited
Thales Group
Xtrac Limited
Microsemi Semiconductor Ltd
Mitsui Components Europe Ltd
Sprecher Automation GmbH
HEMA Kabeltechnik
Norgren Ltd
Serck Controls Ltd
RS Components Limited
Rexel UK Ltd
Shell
Texaco
3M
Philips
Daimler Chrysler
Lotus
Cosworth
Honda Racing
Corus Group
Cadburys Schweppes
Weston Homes PLC
Kier Limited
Ineos N.V.
---
Health
Public Health England
National Blood Service
The Chartered Society of Physiotherapy
Humber Mental Health NHS Trust
Portsmouth Hospitals University NHS Trust
Tameside & Glossop Acute Care
Manchester Primary Care Trust NHS
Velindre NHS Trust
The Royal Wolverhampton Hospitals NHS
St Georges Heathcare NHS Trust
UCLH NHS Foundation Trust
Guy's and St Thomas' NHS Foundation Trust
Pesticides Safety Directorate
The Hillingdon Hospital NHS Trust
North East Ambulance Service
St Luke's Hospice
Fisher & Paykel Healthcare
Westfield Health
Trover Solutions, Inc.
Epsom and St Helier NHS Trust
Central Cheshire Primary Care Trust]
NHS Northumbria Healthcare
Royal Wolverhampton NHS Trust
Coventry and Warwickshire Ambulance NHS Trust
University Hospital Birmingham
---
Energy
Shell
Texaco
BP
British Energy
Exxonmobil URC
GE Energy
Chevron
Statoil ASA
Magnox Electric
British Energy
E.ON UK PLC – Generation
RWE Npower
Saudi Electric Supply Company
Horizon Power
Petroplus Refinery
Scottish Coal Company Limited
Aberthaw Power Station
Elster Metering Systems
Itron Metering Solutions UK
Guernsey Electricity
FMC Kongsberg Metering AS
Shell Technology Centre Thornton
Landis+Gyr
Willowglen Services Pte Ltd
Ixian Solutions Limited
---
Government
UK Atomic Energy Authority
Council of the European Union
Ministry of Defence (MoD UK)
Inland Revenue
Customs & Excise
Land Registry
Home Office Scientific Development Branch
HM Government Communications Centre
Defence Science and Technology Laboratory
Government Communications Bureau
Estonian Ministry of the Foreign Affairs
National Physics Laboratory (UK)
Irish Prison Service
Intellectual Property Office (UK)
Environment Agency
Health Protection Agency
United Nations Industrial Development Organisation
The Patent Office
Foreign and Commonwealth Office (FCO)
Cabinet Office
Her Majesty's Government Communications Centre (HMGCC)
Basildon District Council
Carlisle City Council
Cherwell District Council
Conwy County Borough Council
Cornwall County Council
Falkirk Council
Hertfordshire County Council
Herefordshire Council
South Kesteven District Council
North Norfolk District Council
Solihull Metropolitan Borough Council
South Bedfordshire District Council
Warwickshire County Council
Hammersmith & Fulham
Scarborough&North East Yorks Healthcare
Royal Borough of Windsor & Maidenhead
London Borough of Camden
Cumbria County Council
Hertfordshire County Council
London Borough of Islington
Northampton Borough Council
North Somerset Council
Leicester City Council
Salford City Council
Solihull Metropolitan Borough Council
Telford & Wrekin Council
Norwich City Council,
Southampton City Council.
Staffordshire Moorlands DC
Essex Probation
HMP Kilmarnock
City of Wyoming
Madison County
St. Johns County Administration Building
City of Reedley
Politecnico di Milano
States of Jersey
---
Betting and Gaming
Boylesports
William Hill
Betfair
Bet365
---
Aerospace
NASA's Goddard Space Flight Center
Lockheed Martin
Rolls Royce
Civil Aviation Authority (CAA)
BAE Systems (Operations) Ltd
ONERA (French Aerospace Laboratory)
AeroSystems International Ltd
Aeronautical & General Instruments Ltd
Air Traffic Engineering
Aviation Meteorology
British Aerospace
SITA Aerospace
HTBQR Labo Aero
National Space Centre
SAAB Sensis
Surrey Satellite Technology Limited
Rafael
Park Air Systems
NAV Canada
Space Insight Limited
Pole Star Space Applications Ltd
Birmingham Airport Limited
Doncaster Sheffield Airport Ltd
Isle of Man Airport
Jersey Airport
London Luton Airport Operations Ltd.
Malta International Airport plc
Irish Aviation Authority
FR Aviation Limited
Kelvin Hughes Limited
Precision Air & Land Systems
EUROSYSNAV SAS
H+S Aviation Limited
Northrop Grumman
Indra Espacio, S.A.
Jet Time A/S
Flight Refuelling Limited
Flybe Ltd
Thales Group
Kuehne & Nagel Ltd
SES New Skies
BAe – British Aerospace
AeroSystems International
Global Aerospace Logistics, LLC
---
Defence
Naval Air Warfare Center
ArmaSuisse
DSTL Porton Down
Defence Science and Technology Laboratory
U. S. Army Corps of Engineers
Ministry of Defence (MoD UK)
Lockheed Martin
US Department of Defense
MoD
TNO Defensie en Velligheid
RAF Menwith Hill
QinetiQ
Rutherford Appleton Laboratory
MBDA UK Ltd
Northrop Grumman IT Ltd
MOD Corsham
Kelvin Hughes Limited
Sematron UK Ltd
---
Transport
Railway Procurement Agency
Civil Aviation Authority (CAA)
NAV Canada
Global Aerospace Logistics, LLC
Birmingham Airport Limited
Isle of Man Airport
Jersey Airport
London Luton Airport Operations Ltd.
Malta International Airport plc
Irish Aviation Authority
Jet Time A/S
Flybe Ltd
Westinghouse Rail
Tollink SA (Pty) Ltd
Transports Vilavert S.L.
TRACKER Network Ltd
Veolia Transport
Traffic Enforcement Systems
Transas Marine (UK) Ltd
Golden River Traffic Limited
Swansea Drydocks Ltd
QTC Traffic Technology Ltd
Sensor Highway Ltd
Red Funnel Group
Gatsometer BV
Invensys Rail Limited
First Group
Jet Time A/S
NXEC Trains Ltd
Addison Lee PLC
International Maritime Organization
Wesco Distribution Canada LP
Kuehne & Nagel Ltd
TNT
---
Schools, Colleges and Universities
University of Oxford
Imperial College London
University de Versailles
Carnegie Mellon University (Pennsylvania)
Trinity College
University of Westminster
Universidad de Navarra
Brunel University
Universite de Montreal
Utah State University
University of Leeds
University of Bradford
University of Stirling
University of St Andrews
University of Birmingham
The University of Manchester
University of Edinburgh
University of Birmingham
Falmouth University College
Durham University
Liverpool John Moores University
Alumwell Business & Enterprise College
Blackburn College
Carlisle College
Hereward College
Middlesbrough College
Newham College of Further Education
North Hertfordshire College
St Mary's University College
Suffolk New College
Zane State College
Caterham School
Emrys ap Iwan School
Hampton School
Headington School Oxford
Jack Hunt School
John Stainer Primary School
School of St. Jude
Northwood School
Tewkesbury School
---
Science
The European Organization for Nuclear Research (CERN)
UK Atomic Energy Authority
National Physics Laboratory (UK)
British Antartic Survey
National Center Meteorology Seismology
National Research Council
Natural Environment Research Council
Home Office Scientific Development Branch
Defence Science and Technology Laboratory
Police Scientific Development Branch
STFC – Science & Tech Facilities Council
UKAEA Culham & EFDA JET
SPI Lasers UK Ltd
Fugro Survey Pty Ltd
Forensic Technology WAI Inc.
National Oceanography Centre
Boston Dynamics
Dolby Laboratories Inc
Shell Technology Centre Thornton
Metrology Institute Republic of Slovenia
Marine Laboratories
Weibel Scientific A/S
Norbrook Laboratories Ltd
Frazer-Nash Consultancy Ltd
Nederlands Forensisch Instituut
---
Sport and Leisure
The All England Lawn Tennis Club
Sports Council For Wales
Chelsea FC PLC
Celtic FC
Opta Sportsdata
Oasis Sports & Leisure Centre
Lotus
Cosworth
Honda Racing
---
Information Technology
Motorola
Hewlett-Packard
DELL
Seimens
British Telecom
Cable & Wireless
Marconi
O2
Panasonic
Capita Secure Information Solutions Ltd
G4S Secure Solutions
Dr Solomons Software Ltd
TQS Integration Ltd.
NCI Systems Limited
Raytime Technology Limited
REC Wafer Norway AS
RM Education plc
Serco Ltd
Civica UK Ltd
Saven Hitech AB
---
Emergency Services
New York Police Department (NYPD)
Metropolitan Police
National Crime Squad
Police Scientific Development Branch
Derbyshire Constabulary
Bedfordshire and Luton Fire and Rescue
Mid & West Wales Fire & Rescue Service
Greater Manchester Fire & Rescue Service
Highlands & Islands Fire & Rescue Serv.
Humberside Fire & Rescue Service
Strathclyde Fire & Rescue HQ
Devon & Cornwall Police
Northamptonshire Police
North Wales Police
West Yorkshire Police HQ
Scottish Police Services Authority
South Yorkshire Police
Derbyshire Constabulary
Derbyshire Constabulary
Hampshire Constabulary
South Central Ambulance Service HQ
Hertfordshire Constabulary
Norfolk Constabulary
Coventry and Warwickshire Ambulance NHS Trust
South Yorkshire Police
West Yorkshire Police
North Wales Police
Nottinghamshire Police
North East Ambulance Service
---
Food
The Coca-Cola Company
Domino's Pizza Group Limited
Walkers Shortbread Ltd
Tamar Foods
Cadbury's Trebor Bassett
Ginsters
Haribo UK
Northern Ireland Water
Northumbrian Water Ltd
Kerry Foods Ltd
Severn-Trent Water
Cranswick Plc
---
Organisations and Societies
British Board of Agrement (BBA)
TUV NEL Ltd
RSPCA
Press Association
English Heritage
OPCW (Organisation for the Prohibition of Chemical Weapons)
Midlands Co-operative Society Ltd
Scottish Midland Co-op Society Ltd
International Maritime Organization
Kuwait Science Club
Quwwat-ul-Islam Society
World Mission Agency
Watch Tower
Workers Compensation Board of Manitoba
---
Retail
Encore Tickets Ltd
Foot Shop Ltd
FARE TRADE S.A.S.
GO Outdoors Ltd
La Senza
Oasis Sports & Leisure Centre
Primark
Prologic Plc
Richemont International
---
TimeTools specialises in providing NTP Servers, Time Servers, Synchronised Time Displays and other computer timing solutions to organisations world-wide, including USA, UK, Japan, France, Germany, Italy, Spain, Portugal, Netherlands, Ireland, Sweden, Norway, Australia, Middle East and Africa.
Please view our testimonials page for customer comments about their experiences with TimeTools products and services