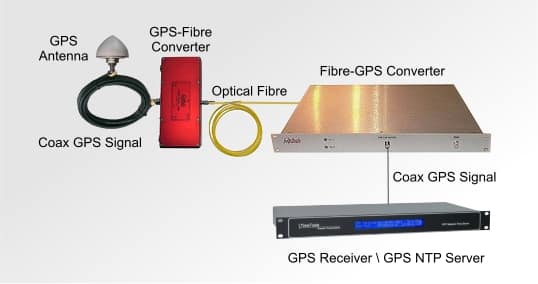 A GPS over fiber link system allows GPS signals to be transmitted with minimal losses over long cable distances.
It provides a highly secure link between a GPS antenna and receiver. It is also resistant to noise, allowing an interference-free link through noisy environments.
The technology transparently provides cross-site connection between a GPS antenna and receiver unit.
Features
Minimal signal loss and degradation over very long cable runs up to 10km.
Provides a highly secure tamper-proof connection between antenna and receiver.
Interference free link through noisy environments, the optical signal is unaffected by electrical noise.
Flexible, small-diameter, lightweight optical fiber cable compares favourably with heavy, large diameter and inflexible low-loss coax cable.
Key Benefits
Lower cost of optical fiber cable compared with long cable runs of high quality low-loss coax.
Complete electrical isolation between antenna and receiver protects against lightning strikes and electrical surge.
Highly secure link, for security sensitive applications.
Specification
Care must be taken to ensure that the correct voltage is supplied to the GPS antenna. TimeTools T-3040 and T-3740 antennas have a wide voltage input range of 2.5 to 12 VDC @ 19mA. A GPS fiber module must supply power to the antenna within this voltage range.
T-Series NTP servers feature open-circuit and over-current antenna detection. Most GPS fiber links have a resistor fitted across its GPS output connector to emulate an antenna connection. Typically, a 200 ohm resistor is fitted across the output to draw a few milliamperes from the receiver. The receiver then assumes that an antenna is correctly connected.
GPS Over Optical Fiber Link Manufacturers
TimeTools has tested the following GPS Fiber Link products from Global Professional with its T-Series NTP servers.
Models
F-800325PRO – GPS over Optical Fibre Link Kit
F-800327PRO – Optional IP65 Weather-Proof Cabinet For RF to Fibre Converter Module
See: https://www.globalprofessional.co.uk/gps-fibre-link-16-c.asp
Alternative Splitter Manufacturers
The following links are to alternative manufacturers of GPS Fiber Link products:
https://www.vialite.com/product/gps-link/
http://starlinkdgps.com/products/gps-fiber-optic-link-installation-fibre-gnss/
https://www.gpsnetworking.com/products/fogpsal-rm
Disclaimer
The links on this page are provided for your information and convenience only and are not an endorsement by TimeTools of the content of such linked websites or third party products or services.
TimeTools therefore makes no warranties or representations, express or implied about such linked websites, the third parties they are owned and operated by, the information contained on them or the suitability of quality of their products or services.