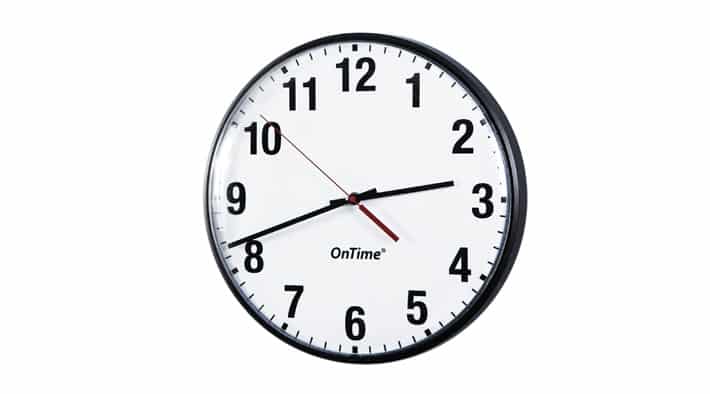 Networked analog wall clocks that synchronize using SNTP to a common reference. The clocks provide a consistent and reliably accurate display of time wherever they are installed. Ideal for installation in schools, hospitals, offices, airports – anywhere accurate time is required.
Various time zones can be configured and the clocks automatically adjust for daylight saving time changes. No operator intervention is required.
Power and data is provided to the clocks over standard CAT5 cabling. Unlike wireless clocks, you will never need to move the clocks in order to search for a reliable radio signal.
Key Features
Flexible power options using industry standard IEEE 802.3af Power over Ethernet (PoE).
Power and data provided over standard CAT5 cabling.
Very low power consumption – only 3 Watts.
Automatic time adjustment using SNTP (Simple Network Time Protocol).
Can synchronize to local or internet NTP server or Windows Server.
Maintenance free – adjusts automatically for Daylight Saving Time.
Standard RJ45 10/100 BaseT Ethernet.
DHCP or static IP addressing.
Easy to read clock face with large numerals.
CE, FCC and ETL approvals.
Industry leading 3-year warranty.
Double sided option available – only requiring single Ethernet connection.
Benefits
Consistent, accurate, traceable display of time throughout an organization.
Classes and meetings start on time. Events accurately logged.
Easy to install, configure and maintain.
Ideal for access control systems, trading rooms, time & attendance systems, anywhere consistent time is needed.
NTP Synchronization
The analog wall clock maintains accurate time using the Simple Network Time Protocol (SNTP). The clocks can operate from any local NTP or SNTP server, including TimeTools range of NTP products. Alternatively, a Windows server can be used or any internet based NTP reference.
Power-over-Ethernet (PoE) Advantage
By using industry standard IEEE 802.3af Power-over-Ethernet (PoE), both power and IP data are provided via a single CAT5 cable. Cost savings are achieved as no mains outlets are required where the clocks are mounted.
---
Customer References and Testimonials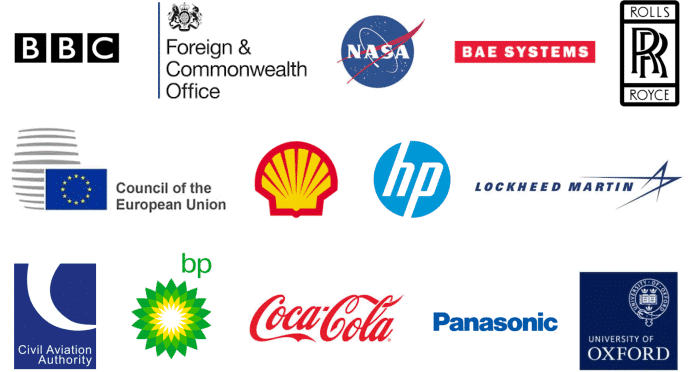 "I have just added a number of NTP wall clocks to our network in our operations office. They were easy to set up and get going and work a treat. Excellent product."
Aviation Metrology ,
International Airport – UAE
---
Mounting Options
Single and double-sided options are available. The single-sided clock can be mounted to a flat surface via a key-hole cut-out. The double-sided models can be either wall or ceiling mounted.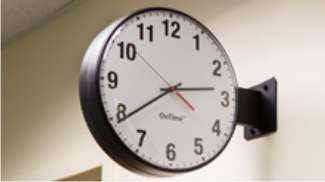 ---
Specification
Single-Sided Clock
Model: ONTA12-BK
Accuracy: ±1 second
Maximum Viewing Distance: 30m
Lens: Polycarbonate
Surround: Black plastic
Mounting Options: Surface Mounting
Diameter: 29.5 cm
Depth: 5.1 cm
Weight: 0.73 kg
Operating Temperature: 0 – 40 ºC
Maximum Operating Humidity: 95%, non-condensing
Power Consumption: 3W
Power: IEEE 802.3af PoE
IP Addressing: DHCP or Static.
Ethernet Connection: 10/100 BaseT RJ45
Network Protocols: SNTP, Telnet
Time-zones: Configurable for time-zone and daylight saving (DST)
Double-Sided Clock (As above except):
Model: ONTA12DS-BK
Mounting Options: Pendant or Cantilever
Depth: 10.8 cm
Weight: 3.2 kg
Power Consumption: 4W
---
Related Products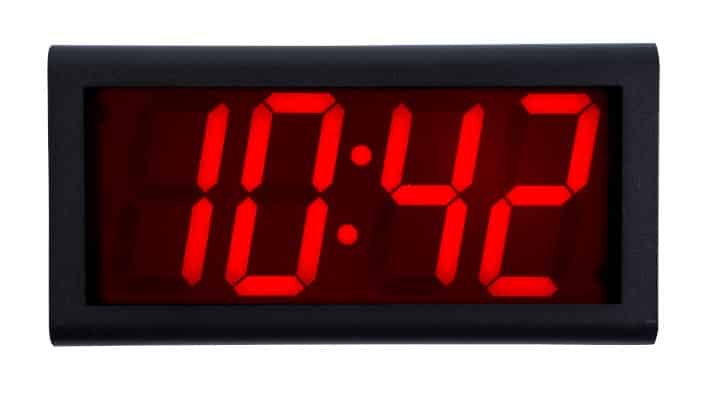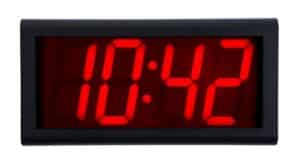 4-Digit Network Clock with PoE
6-Digit Network Clock with PoE