Four and six digit LED wall clocks that synchronize using Network Time Protocol (NTP) over Ethernet to provide a reliably accurate display of time or date. The clocks can be configured for various time zones and automatically adjust for daylight saving. Ideal for schools, hospitals, offices and manufacturing facilities.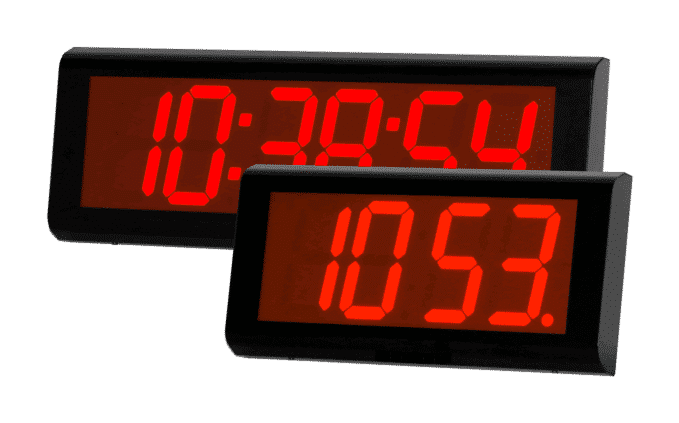 Unit Price, 4-Digit Model: GBP 225.00 \ EUR 250.00 \ USD 295.00
Unit Price, 6-Digit Model: GBP 275.00 \ EUR 305.00 \ USD 360.00
Key Features
Accurate display of time or date.
Synchronizes to any local or Internet NTP server or Windows / LINUX Server over Ethernet.
Web browser or DHCP command string configuration.
Configurable time zone and daylight saving.
Display time or date information.
Powered using industry standard Power-over-Ethernet (IEEE 802.3af, PoE+ IEEE 802.3at).
Standard RJ45 10/100 BaseT Ethernet with PoE.
DHCP or static IP network addressing.
Manual or automatic brightness control.
Energy saving ECO mode.
Benefits
Organization-wide reliably accurate display of time or date.
Adjusts automatically for daylight saving time, no manual intervention required.
Ideal for accurate time-stamping of events.
Cost savings can be achieved due to scheduled classes and meetings starting on time.
Data and power are provided over a single CAT5 Ethernet cable, reducing installation costs.
Extremely easy to install, configure and maintain.
Ideal for installation in schools, hospitals, offices, anywhere reliable time is required.
Unlike wireless clocks, you will never need to search for a reliable radio signal.
Applications
Schools.
Hospitals.
Meeting rooms.
Interrogation rooms.
Security.
Pharmaceuticals.
Automatic Time Adjustment
The digital clocks utilize the NTP protocol to maintain accurate time. They can synchronize to any local or internet NTP or SNTP time server. A Windows server can also be configured to provide NTP to the clocks. TimeTools also has a range of GPS referenced NTP servers that can be used as master clocks.
The clocks adjust automatically for Daylight Saving Time, no manual intervention is required, saving time and money.
Power-over-Ethernet (PoE)
Industry standard Power-over-Ethernet (PoE) allows data and power to be provided to the clocks over a single CAT5 network cable. A mains outlet is not required, simplifying installation and reducing costs.
Clock Mounting Options
Two keyhole cut-outs on the rear panel of the clock make mounting on a flat surface or wall simple.
Warranty and Support
12-month warranty.
Free unlimited support and firmware updates for the lifetime of the product.
Product Codes
T-ZAS10-L: 4-Digit NTP Synchronized Wall Clock.
T-ZBS10-L: 6-Digit NTP Synchronized Wall Clock.
Optional Accessories
POE-001: IP-COM PSE30G-AT IEEE802.3at Gigabit Single Port PoE Injector
Download
Customer References and Testimonials
A large number of prestigious organisations from around the world trust TimeTools for their synchronization requirements. Here is a small selection: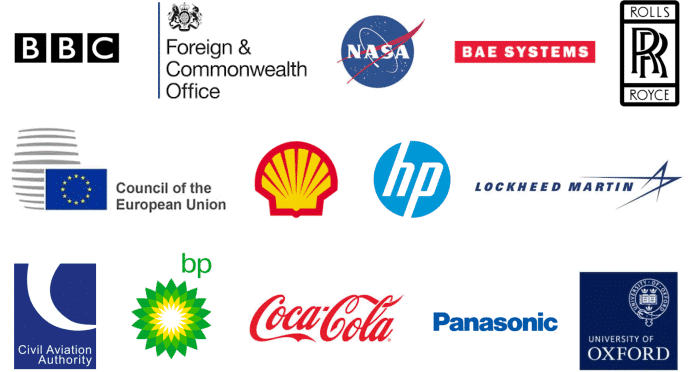 "Not only has the TimeTools product performed as advertised but it is also cost-effective. Outstanding customer support. What more could anyone want?"
Carollo Systems, USA