PLEASE NOTE: TimeTools SC Series has now been superseded by the T100 Compact GPS NTP Server.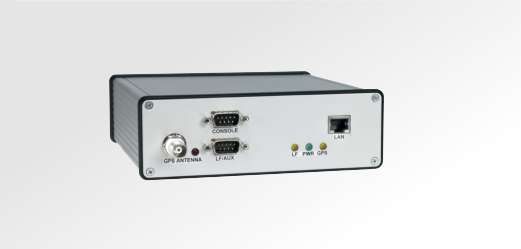 Key Features
Accurately synchronizes the system time of Windows and Linux\Unix platforms
RS232 Serial Interface, can be used with USB\Serial converters
Single satellite timing operation
One Pulse Per Second (PPS) output on BNC connector for external timing
Universal 100-250VAC 50-60Hz PSU (9-36VDC and 85-250VDC IN options)
Key Benefits
Accurately synchronize time critical processes
Accurate, traceable time reference inside your firewall
Reliable timing information derived from atomic time
Simple to install, configure and maintain
LC2750 Time Server Overview
TimeTools new LC2750 RS232 Serial GPS time source provides computers and computer networks with a highly precise timing reference. The LC2750 provides a real breakthrough in price and performance. The compact device is housed in a rugged, aluminium enclosure, ideal for applications with space-saving requirements.
"The LC2750 provides a reliable, highly accurate, traceable, source of time inside your firewall".
Indoor Operation
The LC2750 incorporates a highly sensitive GPS timing receiver that can often operate with an indoor located antenna. This reduces installation costs, as a roof mounted GPS antenna is often not required. Additionally, surge suppression to protect from potential lightning strikes is not required with an indoor antenna. Of course, the GPS antenna is completely weather-proof and can still be mounted outdoors if you wish.
Single Satellite Operation
Over-determined clock technology allows the LC2750 to provide accurate timing information while only a single satellite is in view.
High Precision
Timing information to +/- 60 nanoseconds can be provided via a RS232 serial interface. Typically, an 800MHz Pentium PC running Linux can be synchronized to within 1 microsecond of UTC.
5-Year Warranty
The LC2750 GPS Timing Receiver is a low-power convection cooled device with no moving parts, aiding long-term reliability. Our confidence in the reliability of the device is reflected in the provision of an industry leading 5-year warranty.
Software Drivers
Software drivers are available for most operating systems including Microsoft Windows and LINUX \ UNIX. Network Time Protocol (NTP) drivers are available for Windows to provide network time synchronization. LINUX \ UNIX drivers are provided as source code as a NTP reference clock driver for the standard NTP distribution.
Mechanical\Environmental Specification
Dimensions
168 x 165 x 54 mm (6.5" x 6.5" x 2.2") compact enclosure
Construction
1.8mm Aluminium
Weight
approx 0.8Kg (1.8lbs)
Power Supply
Universal 100-250 VAC 50- Hz CE/UL/CSA Approved PSU
Optional 9-36VDC IN and 85-250VDC IN versions available
Power Consumption
approx 3W
Operating
Temperature
-10C ~ +60C (Extended temperature range options available)
Storage Temperature
-10C ~ +60C (Extended temperature range options available)
Relative Humidity
95% non-condensing
Approvals
CE, EN61000-6-1, EN61000-6-3
Input\Output Specification
| | |
| --- | --- |
| Serial | 9 way 'D' RS232, 9600, N, 8, 1 |
| GPS Input | TNC female |
| Power | Double Fused IEC Inlet |
| PPS (optional) | Buffered pulse per second output on BNC (optional) |
Integral GPS Receiver Specification
Type
True GPS Timing Receiver, 12 Channel, L1 1575.42 MHz
Features
High sensitivity, Over-determined clock modes, Single
satellite in view
Timing
GPS Time Traceable to UTC (USNO)
Accuracy
+/- 60 nsec UTC (typical)
Acquisition
(Cold Start)
38 sec
Supplied with Linux and Microsoft Windows Software.
LC2750 Product Codes
LC2750 GPS Time Server

LC2750-20P

Scope of Supply: LC Series GPS Time Server, IEC Mains Lead,
RS232 Serial Cable, Product User Guide and Software CD.
(Optional 9-36VDC IN, 85-250VDC IN and extended temperature range versions available.)
Optional LC Series GPS Reference Clock Antennas and Accessories
| | |
| --- | --- |
| Jam-Resistant Pole Mounting GPS Antenna and Mount | T-3072 |
| 30m RG58 Cable | TCX-030 |
| 50m LMR195 Cable | TCX-050 |
| 100m LMR400 Cable | TCX-100 |
| Additional cable lengths available on request | |
| GPS Surge Suppressor | SPP-GPS |
| GPS Amplifier – 20db | T-AD200-8 |
| LF / GPS over optical fibre systems | P.O.A |
| GPS Splitters – 2 to 32 way, compact or rack-mount | P.O.A |