Synchronize your network with microsecond precision using Network Time Protocol (NTP \ SNTP).
Accurately synchronize Windows, Linux, Unix, Servers and Workstations, Time Displays, CCTV systems, DVR's, telephone systems, switches, routers and more!
GPS, MSF and DCF-77 reference clock options for Stratum 1 operation. Peering and Stratum 2 operation via NTP servers.
PLEASE NOTE: TimeTools SR Series has now been superseded by the T300 GPS NTP Server Appliance and T550 GPS/GLONASS/BeiDou/Galileo NTP Server.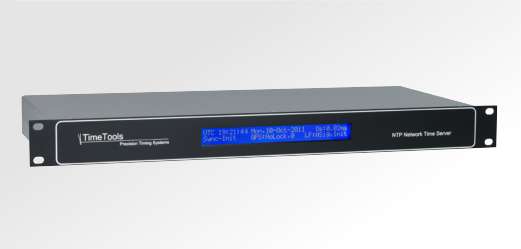 Key Features
Competitively Priced, True Stratum 1 NTP Time Servers
Single and Dual Independent LAN options
GPS, Radio and Dual Reference Clock Options
High Stability TCXO Options for Extended Holdover
Key Benefits
Accurately Synchronize Windows, Linux and UNIX Clients
Accurate, Reliable, Source of Time Inside Your Firewall
Serves Thousands of Network Time Clients
Accurately Synchronize Time Critical Processes
Overview
TimeTools SR Series provides a complete range of Linux-based, true Stratum-1, NTP Network Time Servers that represent a real breakthrough in price and performance.
Housed in a rugged, yet compact, 1U high, rack-mountable enclosure, the SR series takes up minimal valuable rack-space.
By utilising a customized Linux kernel and an unmodified version of the latest network time protocol distribution, NTP version 4.2, the SR series offers true NTP / SNTP functionality.
GPS, Radio and Dual Reference Clock Options
Multiple external reference clock combinations can be provided with the SR series; GPS, MSF radio, DCF-77 radio and dual GPS / radio reference capabilities. The SR series provides true flexibility.
The SR series is also provided with a cutting-edge high-sensitivity GPS receiver that can often operate with an indoor located GPS antenna. Additionally, the new receivers can operate from a single satellite-in-view making operation from a window often possible. These features potentially provide a great saving on installation costs when compared to traditional roof-mounted GPS antennas.
Of course, our GPS antennas are completely weatherproof and can be roof-mounted outdoors, if required.
High Stability Extended Holdover Option
High-stability GPS/LF disciplined Temperature Controlled Crystal Oscillator (TCXO) options are available to maintain accurate time for extended periods in the event of GPS / radio reference clock signal loss.
Secure Configuration and Maintenance
A secure (HTTPS), easy to use, password-protected user interface is provided for system configuration and management. FTP/SCP can be utilised to download NTP statistics and upload firmware upgrades, available from TimeTools free of charge.
5-Year Warranty
The SR Series NTP Server is a low-power convection cooled device with no moving parts, aiding long-term reliability. Our confidence in the reliability of the device is reflected in the provision of an industry leading 5-year warranty.
Customer Testimonials
Just installed our first SR9210. We were quite surprised about the craftsmanship and quality of the product. The software seems to be engineered very well too. We were able to complete the set-up within a time frame of one hour from first power on to full configuration – and we wrote the documentation for our configuration in parallel. We are using GPS, DCF-77 and three ntp.org pools for fail-over reasons. Did some fail-over tests too – everything worked as expected. If anyone asks me for advice on a ntp time server, my answer will be: go to TimeTools and place your order. Thank You very much.
Matthias Petz, ICT Systems Engineer and Project Manager
Strüby Konzept AG, Sweden
See more customer testimonials.
See more customer references.
SR7110 – Entry Level, Competitive Price
The SR7110 is an entry-level Linux-based true NTP time server at a highly competitive price. It can utilise GPS or LF radio time references to provide stratum-1 NTP functionality, ideal for synchronizing digital clocks, DVR's and smaller networks.
SR9210 – Feature Rich, Value
The mid-range SR9210 provides a high specification NTP network time reference. It incorporates a high-throughput Ethernet network interface, combined with the ability to accept GPS, LF radio or dual GPS / LF radio external time references. The SR9210 is an ideal time reference where a large number of network time clients are to be synchronized accurately and reliably.
SR9750 – High Stability, Extended Holdover
The SR9750 provides all the features of the SR9210 with the additional benefit of a high-stability disciplined TCXO oscillator for extended holdover in the event of primary reference loss. Ideal where a highly reliable source of time is required.
SR9860D – Dual LAN, High Accuracy
The top-of-range SR9860D incorporates dual independent LAN capability for synchronizing multiple networks. It also provides enhanced precision along with a GPS/LF disciplined TCXO for extended holdover. Ideal for reliably synchronizing multiple, large, networks with a high degree of accuracy.
Model Comparison Chart
Model

SR7110

SR9210

SR9750

SR9860D

Network
LAN 10/100 Mbit BaseT , RJ45 auto-sensing

Single

Single

Single

Dual
Timing Protocols
NTP v2, v3, v4, SNTP v3, v4

●

●

●

●
NTP Peering

●

●

●
NTP Broadcast

●

●

●
NTP MD5 Authentication

●

●

●
NTP Requests / Second (typical)

> 200

> 1000

> 1000

>5000
Maximum Number of NTP Clients (typical)

>12,000

> 64,000

> 64,000

>320,000
NMEA RS232 Output

●

●

●
Time Reference Options
12 Channel GPS Receiver High Sensitivity
Indoor, Over- Determined Clock,
Single Satellite Operation

●

●

●

●
LF – MSF (UK) Reference Clock

●

●

●

●
LF – DCF-77 (German) Reference Clock

●

●

●

●
Dual GPS and LF Radio Reference Clocks

●

●

●
Monitoring and Reporting
SNMP v1 / v2c Trap Alarms
(Can be disabled)

●

●

●
System Logging (SysLog)

●

●

●

●
Remote System Logging (Remote Syslog)

●

●

●
GPS Satellites in View &
Signal to Noise Ratio (SNR)

●

●

●

●
Configuration Protocols
HTTP (Web) / HTTPS
(SSL Secure Sockets Layer)

●

●

●
SSH (Secure Shell), SCP
(Secure Copy Protocol)

●

●

●
TELNET, FTP

●

●

●

●
Console (RS232)

●

●

●

●
DHCP

●

●

●

●
Oscillator Options
Standard Crystal Oscillator

●

●

High Stability GPS\LF Disciplined
TCXO Oscillator

●

●
Timing (Typical)
GPS Accuracy

1 ms

60 ns

60 ns

60 ns
LF Accuracy

10-50 ms

1-20 ms

1-20 ms

1-20 ms
NTP Accuracy (typical, GPS Synchronized)

<10 ms

< 250 us

< 250 us

<1 us
24 Hour Holdover (GPS disciplined, typical @ 25C)

–

–

<±10 ms
(2.3e10-7)

<±4.3ms
(1e10-7)
Buffered 1 PPS Output on BNC

○

○

●
Mechanical\Environmental Specification
Dimensions
483 x 205 x 44 mm (19.0″ x 8.05″ x 1.73″)
Construction
1U High 19″ Rack mount, 1.8mm Aluminium
Weight
approx 2.2Kg (4.84lbs)
Power Supply
Universal 100-250 VAC 50- Hz CE/UL/CSA Approved PSU
(Optional 9-36V DC IN and 85-250V DC IN versions available)
Power Consumption
approx 5W
Operating
Temperature
0C ~ +50C (Extended temperature range options available)
Storage Temperature
-10C ~ +60C (Extended temperature range options available)
Relative Humidity
95% non-condensing
Approvals
CE, EN61000-6-1, EN61000-6-3
Input\Output Specification
| | |
| --- | --- |
| LAN | 10/100 Mbit BaseT , RJ45 auto-sensing |
| Serial Console | 9 way 'D' RS232, 9600, N, 8, 1 |
| GPS Input | TNC female |
| LF/AUX Input: | 9 way 'D' |
| Power | Double Fused IEC Inlet |
| PPS (optional) | Buffered pulse per second output on BNC (optional) |

Integral GPS Receiver Specification
Type
True GPS Timing Receiver, 12 Channel, L1 1575.42 MHz
Features
High sensitivity, Over-determined clock modes, Single satellite in view
Timing
GPS Time Traceable to UTC (USNO)
Accuracy
+/- 60 nsec UTC (typical)
Acquisition
(Cold Start)
38 sec
SR Series NTP Time Servers Product Codes
SR 7110 GPS \ LF NTP Server
SR7110-20P
SR 9210 GPS \ LF \ Dual Reference NTP Server
SR9210-20P
SR 9750 GPS \ LF \ Dual Reference NTP Server with TCXO
SR9750-20P
SR 9860D GPS \ LF \ Dual Reference NTP Server with TCXO
SR9860D-20P
Scope of Supply: SR Series NTP Time Server, IEC Mains Lead,
Console Configuration Cable, Product User Guide and NTP Client CD.
(Optional 9-36VDC IN, 85-250VDC IN and extended temperature range versions available.)
Optional SR Series GPS Reference Clock Antennas and Accessories
| | |
| --- | --- |
| Jam-Resistant Pole Mounting GPS Antenna and Mount | T-3072 |
| 30m RG58 Cable | TCX-030 |
| 50m LMR195 Cable | TCX-050 |
| 100m LMR400 Cable | TCX-100 |
| Additional cable lengths available on request | |
| GPS Surge Suppressor | SPP-GPS |
| GPS Amplifier – 20db | T-AD200-8 |
| LF / GPS over optical fibre systems | P.O.A |
| GPS Splitters – 2 to 32 way, compact or rack-mount | P.O.A |
Optional SR Series LF (Radio) Reference Clock Antennas
| | |
| --- | --- |
| Ultra-High-Gain MSF (UK) Antenna | SR-MXS-00 |
| Ultra-High-Gain DCF-77 (German) Antenna | SR-DXS-00 |
| LF Radio Surge Suppressor | LF-SPP |
How To Buy
TimeTools sells directly to you!
Typically, our products are available from stock and can be dispatched to locations world-wide.
You can purchase any of our products by contacting us directly for a quotation, advice or to set up an account.
Additionally, we accept most credit cards, including Visa and MasterCard.
Alternatively, please contact one of our approved representatives in your region.
About Us
TimeTools is a leading manufacturer of precise time references for synchronizing servers, workstations and computer network infrastructure. For well over a decade, TimeTools has been providing timing solutions to high-profile companies world-wide. Here is a small selection of companies who trust TimeTools for their timing requirements:
See more customer references.
See more customer testimonials.
Quality: ISO9001
TimeTools is an ISO9001:2008 accredited company. ISO9001 accreditation demonstrates that quality assurance and customer satisfaction is of paramount importance to us.

We are also a member of the CE Marking Association, which enables us to meet our legal obligations with regards to the CE Mark and product conformity, and with keeping up-to-date with changes in legislation.