TimeTools T100 NTP server is a low cost time reference for synchronizing small and medium sized networks. It provides a highly cost effective solution for solving computer timing issues and time critical applications.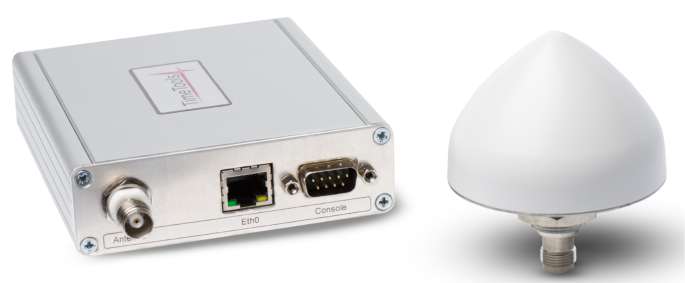 The T100 receives very accurate time stamps from the Global Positioning System (GPS) which it uses to precisely synchronize its own internal clock.
The device has a 10/100 MBit Ethernet port which can then be used to provide a reliable source of accurate time for servers, workstations, network infrastructure, Closed-Circuit Television (CCTV) systems, Digital Video Recorders (DVR), Access Control Systems (ACS) and many other time sensitive applications.
Secure, Traceable Source of Time
Applications, such as Video Surveillance Systems and CCTV systems require a legally traceable source of time. Often, installers use one of a large number of Internet time servers that are freely available. However, Internet time references do not provide a legally traceable source of time that can be used in court or criminal investigations. Additionally, they require an internet connection for access, which raises security concerns where a closed security system is required.
A stratum 1 GPS referenced NTP server is required to provide a secure, legally traceable time reference to closed systems. However, GPS NTP servers are traditionally very expensive to buy and install, while many applications are often very budget sensitive. An economic, reasonably priced solution is required.
Accurate Time To Suit All Budgets
The T100 is a relatively cheap ntp server that provides an inexpensive solution to network time synchronization requirements by providing a full featured GPS referenced time server at an affordable price. Additionally, the T100 is easy to install and configure via a simple web-interface. It also provides many features only available on devices costing many times more.