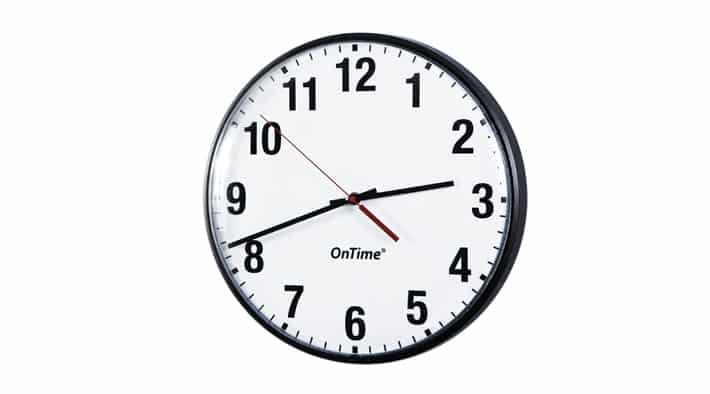 Key Features
Six digit display to show hours, minutes and seconds.
100mm (4 inch) high display digits.
Flexible power options using IEEE 802.af PoE .
RJ45 10/100 networking.
Static display, no flicker, ideal for CCTV use.
Twelve or twenty-four hour format
Easy to install and maintain.
Key Benefits
Accurate, traceable, time information displayed throughout organization.
Easy installation and configuration.
Maintenance free operation.
Ideal for trading rooms, time & attendance and access control, anywhere an accurate time display is required.
Overview
TimeTools digital wall clock time displays utilise NTP over Ethernet to display a continuously accurate synchronized time.
The synchronized time displays are available as four-inch high numerals with four or six digits. The large wall clock obtains time from an intranet or internet based NTP server, to provide an accurate time display to one-fifth of a second.
The Ethernet NTP digital wall clock operates with any of NTP or SNTP time resource including TimeTools NTP server products. The unit can also utilise internet based time sources, such as NIST.
For simplicity of operation, the units are Power-over-Ethernet (PoE) devices (IEEE 802.af) using the same network components as IP telephones. If required single or multi-port PoE injectors can be provided at a very reasonable cost.
The large digital wall clock plug into an Ethernet jack on your local area network. No mains socket is required, the device is powered from the network jack plug. Installation is therefore very straightforward, and its easy to move the units around.
The devices are powered over the standard CAT5 cabling using Power-over-Ethernet (IEEE 802.af), the same ethernet standard as voice-over-IP telephones. If your network is not PoE enabled, single or multi-port mid span converters (power injectors) are available at very low-costs.
The digital wall clocks are highly accurate, requiring no human intervention. All time updates are performed automatically using SNTP over the network. No special hardware or software is required. The devices can automatically detect available NTP time servers on the network.
Additionally, you can configure and control hundreds of clocks from any PC on your network using a simple telnet session.
Customer Testimonials
How would you rate your opinion of our company? Very High.
How would you rate your opinion of our products? Very High.
How willing are you to recommend our products to others? Very Willing.
Feedback: "I have just added a number of NTP wall clocks to our network in our operations office. They were easy to set up and get going and work a treat. Excellent product."
Aviation Metrology ,
International Airport – UAE
More customer testimonials.
Mechanical\Environmental Specification
Display Type: Red 6 digits, 7 segments HH:MM:ss
Power: Power-over-Ethernet PoE Fully compliant with IEEE 802.af
Numeral Height: 101.6 mm (4 in)
Viewing Distance: > 50m (150 ft)
Dimensions W x H x D: 300 x 150 x 560 mm (12.0 x 6.0 x 2.2 in)
Weight : 0.9 Kg (2 lbs)
Accuracy: 200 milliseconds typical
Operating Temperature: -30C ~ +85C
Relative Humidity: 95% non-condensing
IP Addressing: DHCP or Static IP addressing.
Ethernet Connection: 10/100 BaseT RJ45
Network Protocol: NTP, SNTP, Telnet
Time-zones: Configurable for time-zone and daylight saving
Product Code
T-ONT6BK           6 Digit Aluminium – Black
T-ONT6KIT         Pendant\Cantilever Mounting Kit