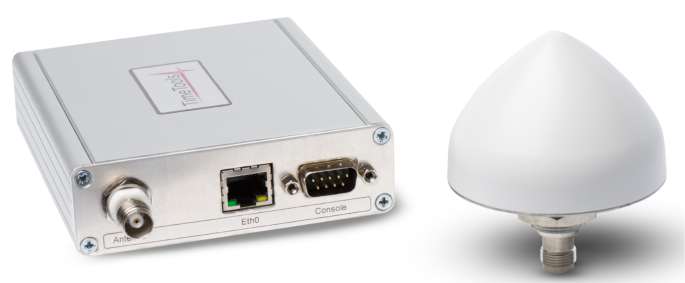 Unit Price: GBP 550.00 \ EUR 650.00 \ USD 720.00
Price Includes: T100 GPS NTP Server Appliance, GPS Timing Antenna, Antenna Mount, 10m Cable, Universal Power Supply Adapter.
All prices Ex-Works.
---
TimeTools T100 time server is a very cost-effective, accurate, Stratum-1 GPS referenced Network Time Protocol Server in a compact enclosure.
It provides an accurate time reference to computer networks and can accurately synchronize any NTP or SNTP compatible system.
Highlights
NTPv4 Stratum-1 GPS Network Time Server.
GPS accurate to 15 nanoseconds (GPS Locked).
NTP accurate to 3 microseconds (GPS Locked).
Synchronize in excess of 100,000 clients at default NTP polling frequency.
10/100 Mbit auto-sensing, auto-MDIX Ethernet port.
IPv4 and IPv6 Internet Protocols.
Extremely cost-effective.
Universal AC mains power adapter.
Made in UK, with 12-month warranty and free lifetime support.
Applications
Network timing, measurement and synchronization.
Synchronize Microsoft Windows, Linux, servers, workstations and network infrastructure.
Automation Systems, SCADA, Network Monitoring and Control Systems.
CCTV, DVR and Video Management Systems (VMS).
Access Control Systems (ACS).
Master clock for NTP synchronized clock systems.
Accurately synchronize time critical processes to a traceable source of time inside your firewall.
---
Customer References and Testimonials
A large number of prestigious organisations from around the world trust TimeTools for their synchronization requirements. Here is a small selection:
Rolls Royce, Lockheed Martin, Shell, Siemens, Nokia, NASA, Bank of England, BAe Systems, British Telecom, Motorola, Coca-Cola, BBC, Inland Revenue, US Army Corps. See more customer references.
"Just installed our first TimeTools NTP Server. We were quite surprised about the craftsmanship and quality of the product. The software seems to be engineered very well too. We were able to complete the set-up within a time frame of one hour from first power on to full configuration – and we wrote the documentation for our configuration in parallel. We are using GPS and three ntp.org pools for fail-over reasons. Did some fail-over tests too – everything worked as expected. If anyone asks me for advice on a NTP time server, my answer will be: go to TimeTools and place your order. Thank You very much."
Matthias Petz, ICT Systems Engineer and Project Manager
Strüby Konzept AG, Sweden
---
Product Codes
T100-00    Compact GPS NTP Server appliance.
Scope of Supply – What is Included
T100              Compact GPS NTP Server Appliance.
T-3040          Pole Mounting GPS Antenna .
MT4-GPS     Antenna Mount.
TCX-010       10m (30 ft) RG58 Cable.
GE12I07-P1J 7.5V DC Universal Power Supply
RS232 Serial Console Cable.
Quick Start Guide.
CD containing user-guide, installation guide and white-papers.
Optional Accessories
TCX-030      30m RG58 Cable.
TCX-050      50m LMR195 Equivalent Cable.
TCX-100      100m LMR400 Equivalent Cable.
Custom cable lengths available on request.
SPP-GPS     Multi-strike maintenance-free surge suppressor
T-AD200-8 GPS Amplifier – 20db
---
Download

 T100 Datasheet


 Quick Start


 T1200-01 T100 Hardware Guide


 T1202-01 Antenna Installation Guide


 T1300-01 T-Series User Guide