Your resource for advanced NTP Time Server, Time Synchronization and Digital Time Display solutions utilising NTP, GPS and Multi-GNSS technology.
---
NTP Network Time Servers

T100 Compact GPS NTP Time Server
TimeTools T100 time server is a very cost-effective, accurate, Stratum-1 GPS referenced Network Time Protocol Server in a compact enclosure. It provides an accurate time reference to computer networks and can accurately synchronize any NTP or SNTP compatible system.
T300 1U GPS NTP Time Server
TimeTools T300  T550 are 1U high rack-mountable Linux-based true stratum 1 NTP Network Time Servers that offer a real breakthrough in price and performance.
The T300 is a NTPv4 Stratum-1 GPS-referenced Network Time Server appliance featuring a high-sensitivity GPS receiver that can synchronize to within 15 nanoseconds of UTC time.
T550 1U Multi-GNSS NTP Time Server
The T550 is a Multi-GNSS referenced Stratum-1 NTP Time Server that can concurrently receive GPS, GLONASS, BeiDou and is Galileo ready. It also features dual Ethernet ports and a high-stability TCXO oscillator.
---
NTP Network Clocks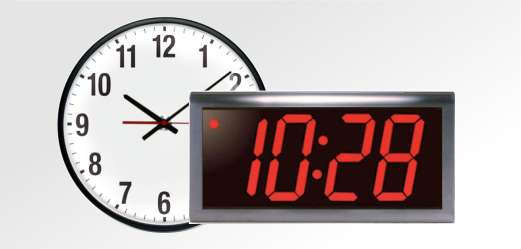 TimeTools Ethernet NTP synchronized PoE digital and analog IP wall clocks provide an accurate synchronized time display throughout any organization. The wall clocks accurately synchronize time to a Master Clock using SNTP over IP on an Ethernet network.
---
News
New T-Series NTP Time Servers
TimeTools new T-Series GPS and Multi-GNSS referenced NTP Network Time Servers are now available.
TimeTools New Global Website.
TimeTools new global web site is now live. This will provide customers in many other countries greater access to our GPS referenced NTP Server and Ethernet clock products. See: www.TimeToolsGlobal.com.
---
Customer References and Testimonials
A large number of prestigious organisations from around the world trust TimeTools for their synchronization requirements. Here is a small selection:
Rolls Royce, Lockheed Martin, Shell, Siemens, Nokia, NASA, Bank of England, BAe Systems, British Telecom, Motorola, Coca-Cola, BBC, Inland Revenue, US Army Corps. See more customer references.
"Just installed our first TimeTools NTP Server. We were quite surprised about the craftsmanship and quality of the product. The software seems to be engineered very well too. We were able to complete the set-up within a time frame of one hour from first power on to full configuration – and we wrote the documentation for our configuration in parallel. We are using GPS and three ntp.org pools for fail-over reasons. Did some fail-over tests too – everything worked as expected. If anyone asks me for advice on a NTP time server, my answer will be: go to TimeTools and place your order. Thank You very much."
Matthias Petz, ICT Systems Engineer and Project Manager
Strüby Konzept AG, Sweden
---
TimeTools is an ISO 9001 Accredited Company.
ISO 9001 is an internationally recognised standard for quality management. It specifies the requirements to successfully implement a Quality Management System in order to monitor and improve the performance of a company.

ISO 9001 accreditation demonstrates that quality assurance and customer satisfaction is of paramount importance to us.